I went to Colorado to visit my sister and to attend my niece's baby shower at the beginning of March. The first night I was there, I started getting a migraine. I get chronic migraines. My sister had just started using the oils a few weeks before. She also suffers from migraines. She told me to try this oil she had called
Past Tense

.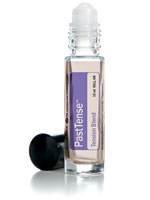 I put it on and about 20 minutes later, I was standing in the kitchen and realized that my migraine was going away. I was SHOCKED!! I put some more on later and was hooked...that fast!! :) I also have used peppermint in conjunction with Past Tense. I have only had to take my medicine once since I started using these oils (and that was really only because I was paranoid that it would get out of hand). This has really been such a blessing for me!! My 13 year old daughter also suffers from severe migraines and has experienced the same success. Past Tense works for normal headaches and tension headaches as well!!
What do you love to use Past Tense for?